iPhone 13 bamboo wood case with shock absorbing anti-slip TPU bumper, world map engraved real bamboo wood backside with polycarbonate layer inside
Protect and style your beautiful iPhone 13 with a GOWOOD iPhone 13 bamboo wood case. A unique combination of three high quality materials put together for excellent protection while looking unique and beautiful.
GOWOOD is the answer to your search for affordable high quality wood phone cases.
Why choose GOWOOD?
FITS THE iPhone 13 – The phone case fits tight around the iPhone 13 (regular 6.1″ screen). The bottom openings are cut with extreme precision to ensure easy access to your charger's socket and speakers/mic.
ANTI-SLIP TPU BUMPER – Your phone is surrounded by a thick TPU shock absorbing bumper. Not only will you be less likely to drop your phone in the first place, but in case it does happen, you can count on the TPU bumper to absorb and divert the impact.
POLYCARBONATE INNER LAYER – Incorporated into the design is a strong white polycarbonate layer, which curves around your phone and provides excellent protection.
SUPER LIGHT SLIM CASE – The iPhone 13 protective case is ultra light and ultra slim. Forget about adding bulk or weight to your phone.
WIRELESS CHARGING COMPATIBLE – No need to remove the wood case when charging the iPhone 13 wirelessly.
REAL WOOD – The back plate is made of real bamboo wood. The natural material feels warm in your hands and the wood grains make every case unique.
SAFELY PLACE PHONE UPSIDE DOWN – The edge of the case ends 1 mm above the screen, allowing you to place your iPhone 13 upside down without damaging the screen. It also allows for a screen protector.
RISK FREE – We gladly take away all risk. We offer an easy return policy. If you changed your mind, just return it undamaged and get fully refunded.
WARRANTY – 90 days warranty extendable to 180 days upon purchase registration. Experiencing an issue? Never hesitate to contact us. We stand by our products and are there for you if you need us.
CANADIAN – We are proudly Canadian and you will receive native English or native French speaking customer support. You are supporting a Canadian business by purchasing from us.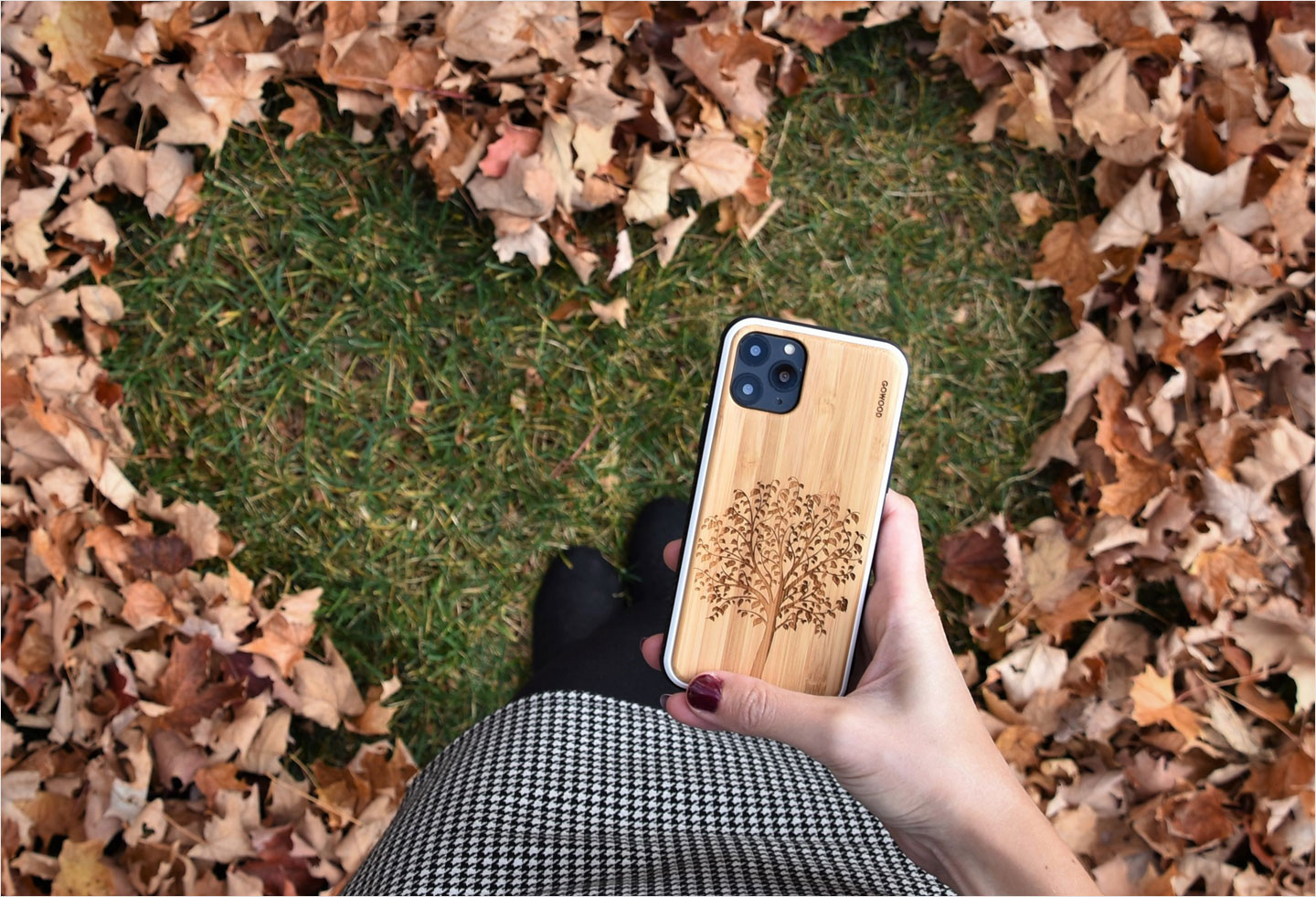 Check out all iPhone 13 wood cases here.
Don't have an iPhone 13, but another phone? Check out all our wood phone cases here.
For information about the Apple iPhone 13, visit the Apple iPhone 13 specifications page.